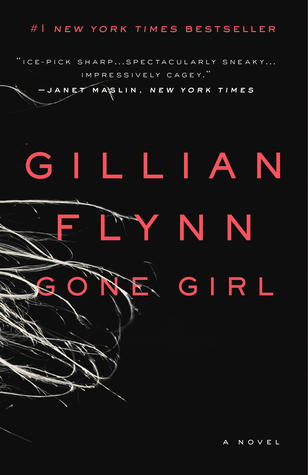 Title: Gone Girl
Writers : Gillian Flynn
Published: 2012
Genre: Fiction
My Rating: 4 on 5
Gone Girl is about the life of a just-like-any-other couple Amy and Nick wherein Amy goes missing on the day of their fifth wedding anniversary. Amy is shown as a sweet, innocent girl while Nick is painted as evasive, indifferent to the situation and is rightfully the primary suspect. The book takes a big U-turn around half way through and the reader starts questioning self about the characters and are they really what they seem.
The book is a thriller, page turner and very, very un-putdown-worthy. I finished it in two marathon sittings, dying to know what happens in the end. The book is written through Nick's POV and Amy's diary entries. Having two voices, who are on different sides of the tables makes this book a very different read. It is as if you are the detective, listening to the two sides of the story and determining who is guilty.
Amy and Nick's characters and even the supporting ones are very strongly etched. Without spoiling it for the others, let me just say, both the lead characters go through a roller coaster ride where they go from good to evil and all shades of grey. The writing was okay, I don't really pay attention to the literary beauty when the story is so gripping.
I thoroughly enjoyed reading the book, but I still give it a 4 mainly because the book makes crime sound too easy. Crime shouldn't be a cakewalk, right. The plotting and careful planning is very clearly shown in the first half and it is amazing to see the character's brilliance while committing the crime, but the later part of the book makes it look too easy, child's play. Another reason for the rating is the ending. I wish there was a stronger, more in-the-face-explosion kind of ending.
Even with the loopholes and the weak ending, the book is a great filler for in between heavy reading. While I was reading the book, I couldn't help thinking what a great movie this book will make and what do you know, movie is going to be released this October. Can't wait to see it.